Daily Chronicles
The Daily Chronicles are snippets of the most important news across the world for this and each day as it rolls in. Kindly also use it as an open thread.
---
Judging by the channels waking up and reporting many missile, drone and other artillery strikes, it seems as if Russia is doing another major wave of denazification and demilitarization in the Ukraine.  There is copious reporting, but I'll wait for the MoD report tomorrow.  At the moment, Intel Slava Z is keeping up to date as best they can.
---
There is good and positive news as well.  Yet, this open and sore nerve will be exploited time and time again.
Serbia was able to avoid a full-scale conflict in Kosovo and Metohija, which would have ended in a "catastrophe with NATO" – Aleksandar Vucic
All barricades previously set up by the Serbs in the north of Kosovo and Metohija were removed on Friday – Kosovo Online portal
Alexander Vucic also thanked Russia for their support during this explosive time.
---
Brazil.  We did not have to wait long for the coup attempt.  From RT India:
Brazil: Nationwide Raids Following Alleged Coup Attempt, 4 Detained
A crackdown on Bolsonaro supporters – who refuse to recognise the results of the recent general election and are calling for a military coup – has led to 32 search and arrest warrants and a bomb plot being foiled by police.
"Qualified damage, arson, violent abolition of the rule of law and coup d'état, with maximum combined penalties amounting to 34 years in prison," are the alleged crimes, according to federal police.
Amid security concerns over President-elect Lula's Jan 1 inauguration, Brazil's Supreme Court has slapped a ban on registered gun owners from carrying firearms.
The hastag
#covarde
(coward) is trending today in Brazil, with thousands of people criticizing Bolsonaro for fleeing the country.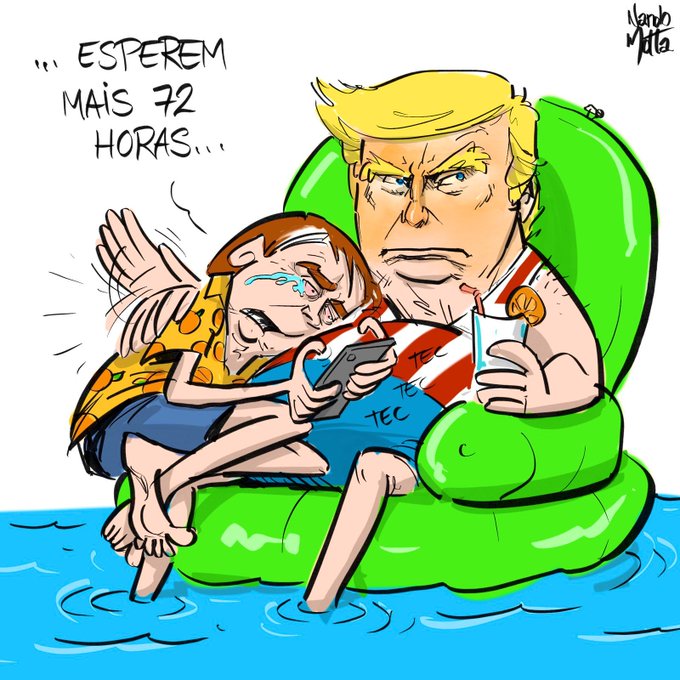 ---
Yes, as I said yesterday, we again are witnessing a major missile, bombing, and shelling campaign by Russia into the Ukraine.  I waited for the Russian MoD report as the other coverage was a little spotty.  This is what they say:
On 29 December, the Armed Forces of the Russian Federation launched a massive attack, using high-precision long-range air- and sea-based armament, at the military control framework, and the power facilities that ensured operating of Ukrainian defence industry.
◽️ The goal of the attack has been reached, all the assigned targets have been neutralised.
◽️ The attack has resulted in stopping the production and maintenance of military hardware and ordnance, as well as in terminating the redeployment of reserve forces of the Armed Forces of Ukraine (AFU) from western regions of Ukraine.
◽️ The disruption of rail traffic, the foreign-manufactured armament delivered for the AFU is blocked in the rear areas.
---
This .. this is a much watch.  We all remember Ollie North and the Iran Contra scandal.  Well, this guy is spilling the beans.
Amazing candor from Iran-Contra felon Ollie North:

Ukraine is just like Reagan's dirty wars in Central America, Africa and Afghanistan

Most of the aid is a kickback to US weapons makers and Beltway contractors

The proxy war is preparation for a larger war w/ China over Taiwan pic.twitter.com/kmKW2JZCH4

— Max Blumenthal (@MaxBlumenthal) December 29, 2022
---
What a bummer!  We have Netanyahu back in the leading role in Israel.  I don't report much on that, but I follow Electronic Intifada and David Sheen.  It looks just horrible.
---
Early reports are that Russia again runs a major missile, bombing, and shelling campaign over the last number of hours in the Ukraine.  I don't see anything yet that we can hang our hats on, but something happened.  I'll wait for the Russian MoD reports in my night and their morning.
---
This is a great infographic – new forces in Asia!  See why we need some talk shops?  They have money to develop things like this.  Keep it for sure!
https://valdaiclub.com/multimedia/infographics/new-forces-in-asia/
---
CIA front NED – which has funded US neocolonialism around the world – is using "anti-colonial" and "pro-indigenous" rhetoric to wage information war on Russia and help make Ukraine a US/NATO colony.

There is nothing that US imperialism will not try to co-opt and empty of meaning https://t.co/CkpK396OtJ

— Ben Norton (@BenjaminNorton) December 27, 2022
---
https://www.rt.com/business/569014-russia-putin-oil-price-response/
Putin bans all oil sales to 'price cap' states
---
A little site news:  Some colors changed as I've had some comments that the gold color on links and headers is too light.  Please note that colors on various monitors are different.  Working on avatars for posters now – but it is slow – it feels like vacations and I should be chillin'   :-).
Oh dear heavens, I lost the footer.  Grrrr….
---
All of the year-end speeches out of Russia are now posted.  You should not miss them because they tell you clearly what to expect for the new year.  Mr.Lavrov's interview with TASS is a doozy.  Attempts to decapitate the Kremlin, i.e., assassinate Vladimir Putin and the time scale of the conflict are but two points:  "… the ball is in the court of the regime and Washington, which stands behind it. They can stop this meaningless resistance at any moment."  If they don't, the Russian military will handle it.  (Do you feel the heat yet?)  I am very sorry to say this as I don't like saying it, but this war is to the death!  The US and its supporters are trying to deal with Russia as Syria, or Libya or even Afghanistan.  They are very much mistaken.  They are dealing with the boss now and the US citizens must rise up because the missiles will start falling on their heads.
---
Joke of the day:
---
This is a huge step for China.  China's National Health Commission announced the downgrading of COVID-19 from a pneumonia to a viral infection. From January 8, all Class-A prevention and control measures for COVID will be removed.
We all know that China handled the Covid-19 outbreak (without saying so, unless one went digging deep) as a bioweapon attack –  given the history of not only China, but of the region.  See Jeffrey Kaye on the US biowar in Korea and we know about the century of humiliation.  My noodling brain is now thinking that the bioweapon part of their thinking must be satisfied in some way or another.  This could be because they consider their own military now is strong enough to handle it?
---
I will wait for the formal transcript of Mr.Putin's speech at CIS States.  Ditto for Mr.Lavrov's speech at the Heads of Media in Russia.  Bits and pieces are being reported but these year end speeches should be looked at in context.
---
On the evening of December 25, the ambassadors of major NATO countries (Germany, Britain, France, Italy, and the US) sent an ultimatum and as threat to Serbian President Aleksandar Vucic, demanding that the barricades in northern Kosovo be dismantled immediately.
The source explains that if the order is not carried out within 24 hours, self-proclaimed Kosovo Prime Minister Albin Kurti will receive the North Atlantic Alliance's forceful support to disperse the Serbian protesters.
---
Oh boy! North Korea tests its drones.  Information is still coming in but one South Korean war plane went nose in, in an attempt to shoot down these drones.
Talking about drones – Ukrainian Drone hit deep in Russia again. A command post in the strategic nuclear bomber airbase Engels was destroyed. 3 Rus soldiers killed, several more injured.
and Iran says, Chief of the General Staff of the Iranian Armed Forces: "We will give drones to whomever we want, based on our interests"  The western msm sometimes one can laugh at, reporting breathlessly that Russia buys Iranian drones or Iran sells drones to Russia – pumping some level of indignance – how dare they!  as if they are not allowed to.
And some planes with those drones:  Beijing has launched large-scale naval and aerial maneuvers around Taiwan, involving dozens of aircraft, days after Washington's pledge to provide additional military aid to Taipei.  A total of 71 jet fighters, anti-submarine planes, electronic warfare aircraft and reconnaissance drones, together with seven naval ships, have been spotted close to Taiwan in the last 24 hours, the self-governing island's Defense Ministry said on Monday.  This is from RT
Do you feel the heat yet?
---
New Trade Route Helps Russia And Iran Bypass Sanctions — Bloomberg
Russia and Iran are building a new transcontinental trade route and are rapidly expanding supply chains, having stepped up mutual cargo deliveries across the Caspian Sea, Bloomberg reported, citing tracking data.
The trade corridor that stretches from the Sea of Azov and the mouth of the Don River in Russia to Iranian hubs on the Caspian Sea and ultimately the Indian Ocean has become increasingly busy in recent months, with new routes emerging, according to the report. Ship-tracking data compiled by the news outlet showed hundreds of both Russian and Iranian vessels along rivers that lead to the Caspian Sea.
Iran's geographical location allows Russia to safely transport goods via the trade corridor through Iranian territory all the way to Asia and India without incurring the risk of Western sanctions.